Martha's Vineyard Summer Concert Series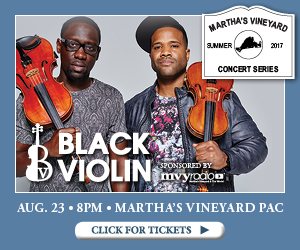 concludes on Wednesday, August 23 at 8 pm as Black Violin takes the stage at the Martha's Vineyard Performing Arts Center.
Combining a daunting array of musical styles and influences to produce a signature sound that is not quite maestro, not quite emcee, this group of two classically trained violinists and their DJ is redefining the music world-one string at a time. Initially inspired by legendary violinist Stuff Smith, with influences ranging from Shostakovich and Bach to Nas and Jay-Z, Black Violin breaks all the rules, blending the classical with jazz, hip-hop, and funk to create something rare—a sound that nobody has ever heard, but that everybody wants to feel.
Wil Baptiste (viola) and Kev Marcus (violin) first met while attending the Dillard High School of Performing Arts in Fort Lauderdale and attended college on full music scholarships. They formed production company DKNEX with manager Sam G and began touring extensively, going on to release three albums and work with musicians such as Mike Shinoda of Linkin Park, P. Diddy, Kanye West, Alicia Keys, Aerosmith, Aretha Franklin, Tom Petty, and the Eagles. In an age where music is coming to be more and more defined by the labels given to it, Black Violin shows that music does not exist within a box, but rather exists in another space—one as open and unrestrained as the minds that produce it
Buy your tickets for this exciting show on August 23! Visit mvconcertseries.com for more information and to purchase tickets.