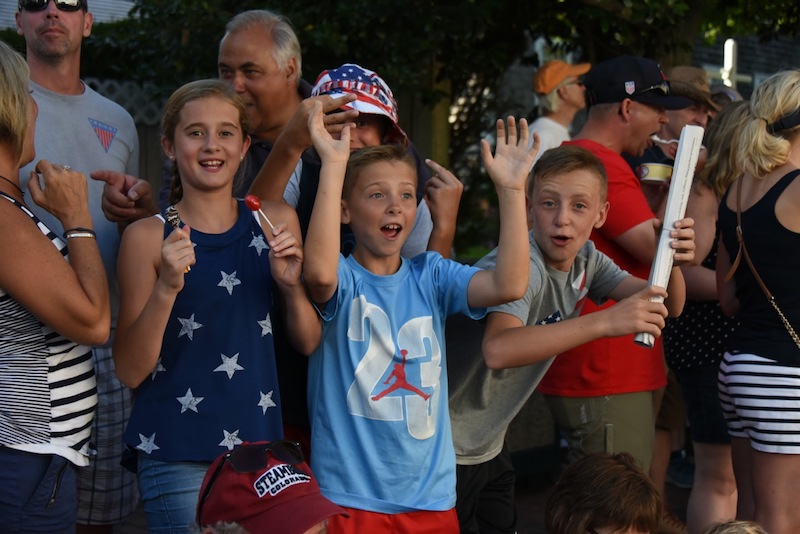 On Martha's Vineyard for July 4th? Edgartown is the center for all the action — including the parade and the fireworks — so plan your schedule around a great day in town.
Come early and check out the harbor from the vantage point of Memorial Wharf as boaters from all points gather to celebrate the Fourth.
Line up along Main street or anywhere along the parade route (check out complete route information in the Vineyard Gazette calendar listing) where you'll see flags flying as floats and marching bands file by. The parade begins at 4 pm, but it's a good idea to find a spot up to an hour ahead. Be sure to take advantage of the Edgartown Park & Ride if you're driving into town. While the parade sets off, Vineyard Trust is firing up the barbecue grills on the lawn of the Dr Daniel Fisher House (4 p.m.). Concession-style refreshments (4-8 pm) and live music (8-9 pm) by the Vineyard Haven Band at the Old Whaling Church keep the party going until the main event – the annual fireworks display – begins at dark.  After the show, stick around and celebrate with friends at Edgartown's many popular bars and restaurants.
Earlier in the afternoon the Harbor View Hotel celebrates with a 4th of July barbecue beginning at 1 pm. If you're in the mood for a little holiday R&R, head over to Lighthouse Beach for a little snooze and some sun, or check out the Arts & Crafts in the hotel's Edgartown Room from 2 to 5 pm.  Kids will love disco-ing their sillies out at the Family Dance-O-Rama which takes place from 5:30 to 7:30 pm just prior to live music by the Joanne Cassidy Band, which keeps the party going until 10:30 pm.
You can get a new perspective on the July 4th holiday from 4-6 pm at Oak Bluffs' Inkwell Beach where the Renaissance House Retreat for Writers & Artists will be presenting the 12th annual dramatic reading of Frederick Douglass' powerful landmark speech "What Does the Fourth of July Mean to the Negro?" Helping to bring the experience to life, readers of all ages are being invited to recite different sections of the powerful 10,000-plus word address Douglass wrote during American slavery in 1852.
Also in Oak Bluffs this week's community sing takes on a patriotic tone which also celebrates its 100th year. Camp and folk songs, rounds, hymns, spirituals, and patriotic gems will also welcome a special appearance by guest soloist, Robert Lewis Sim, who has performed with the Mormon Tabernacle Choir and at the Crystal Cathedral and specializes in African-American folk songs and spirituals.