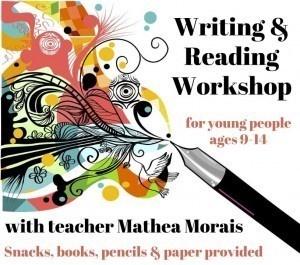 2017
Mon 08/14/2017
10:30 am - 12:00 pm
Location
West Tisbury Library
Contact: West Tisbury Library
Address: 1042 State Road
Phone: 508-693-3366
Email: [email protected]
Website: http://www.westtisburylibrary.org
Admission fee: Free
Relevant Link:
Sponsors: West Tisbury Library
Benefit for:
With Mathea Morais for ages 9 to 14. Snacks, books, pencils and paper provided. Workshop meets Aug. 14-18. Please contact the library to sign up.