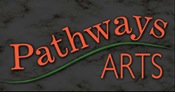 2018
Tue 01/30/2018
7:00 pm
Location
Pathways Gathering Space
Contact: Pathways
Address: 9 State Road
Phone:
Email:
Website: http://www.pathwaysmv.org
Admission fee: Free
Relevant Link:
Sponsors: Pathways
Benefit for:
Writing and Poetry Series at Pathways continues with: Writer's Prose Night featuring
novels, short stories, essays, journals, memoirs, speeches. Reading will be:
Ilka List
Gaston Vadasz
Jib Ellis
Julia Kidd
Rick Glassberg
Barbara Peckham
Nancy Aronie
Others welcome to read if times allows.
Doors open at 6, event takes place 7 -9 pm on Tuesday, January 30.