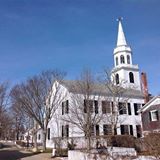 2015
Thu 05/28/2015
11:00 am - 1:00 pm
Location
Federated Church
Contact: Federated Church
Address: 45 South Summer Street
Phone: 508-693-7683
Email: [email protected]
Website: http://www.federatedchurchmv.org/
Admission fee: Free
Relevant Link:
Sponsors: Federated Church
Benefit for:
The Federated Church Meetinghouse, designed by Frederick Baylies, Jr., and built in 1828, will be open daily from 11:00 am to 1:00 pm, from May 25th to October 12th.  Free to the public.  The Meetinghouse is located at the corner of South Summer Street and Cooke Street, in Edgartown.  For information, please call: 508-627-4221, or visit our website: federatedchurchmv.org.