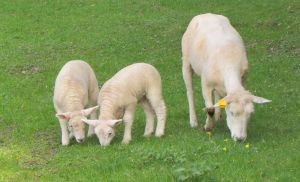 Visit Our Lambs!
Date(s)
Wed 03/16/2016
3:45 pm - 4:30 pm
Location
The FARM Institute
Contact: Lindsay Brown
Address: 14 Aero Ave
Phone: 508-627-7007
Email: [email protected]
Website: http://www.farminstitute.org
Admission fee: Free but donations welcome
Relevant Link: http://www.farminstitute.org/?post_type=tribe_events
Sponsors: The FARM Institute
Benefit for:
Join us in our nursery as welcome our newest members of the FARM – newborn lambs! Please note that we are open to the public from 8:30-4:30 Monday through Saturday, but that our nursery is off limits to the general public except for on 3/16, 3/19, 3/23, and 3/26 from 3:45-4:30. This is for the safety and well-being of our animals.
Don't forget to save the date for Sheepapalooza, our spring festival celebrating sheep & shepherds, and food & farming on April 16!