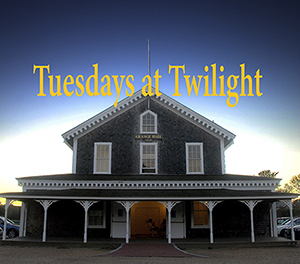 2017
Tue 07/25/2017
7:30 pm - 9:00 pm
Location
The Grange
Contact: West Tisbury Library
Address: 1067 State Rd
Phone: 508-693-3366
Email: [email protected]
Website: http://www.wtlibraryfoundation.org and www.facebook.com/wtlibraryfoundation
Admission fee: $15 for adults, $7.00 for children under 12
Relevant Link:
Sponsors: West Tisbury Library Foundation
Benefit for: West Tisbury Library
On Tuesday, July 25, the Mike Benjamin Band will open the Tuesdays at Twilight series at the West Tisbury Grange with a dance for all ages. The event is sponsored by the West Tisbury Library Foundation, with proceeds going toward the library's programming and landscaping.
A year-round Vineyard resident and the father of two, Mike Benjamin has played with performers such as Susan Tedeschi, James Taylor, the David Letterman Band, and the Blues Brothers. He was the lead guitarist and singer for the Boston Music Award winning band Entrain, and he plays with the Grateful Dread. In the studio, he has worked with Mark Cohn, Delbert McClinton, Patti LaBelle, and Carly Simon.
The Mike Benjamin Band has provided live music for weddings and other major private events on the Island, Cape Cod, and all over the United States. They have performed at private events for President Clinton, Seth Meyers, Ted Danson, Mary Steenburgen, and many other luminaries. The band's focus is always multi-generational and family-friendly.
Doors open at 7 pm and the concert begins at 7:30 pm. Tickets may be purchased in advance at the West Tisbury Library. Admission is $15 for adults, $7 for kids 12 and under. The Art Cliff Diner food truck will serve dinner from 6 to 8 pm on the Grange grounds.