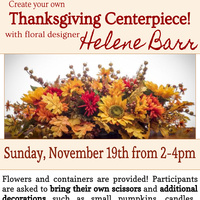 2017
Sun 11/19/2017
2:00 pm - 4:00 pm
Location
West Tisbury Library
Contact: West Tisbury Library
Address: 1042 State Road
Phone: 508-693-3366
Email: [email protected]
Website: http://www.westtisburylibrary.org
Admission fee: Free
Relevant Link:
Sponsors: West Tisbury Library
Benefit for:
Create a festive centerpiece to adorn your Thanksgiving table! Flowers and containers will be provided. Participants are asked to bring their own scissors and additional decorations to include into their centerpieces such as small pumpkins, candles, berries, or seashells. Sign up is required.