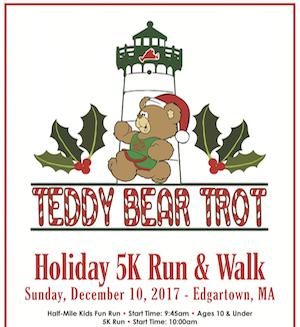 Teddy Bear Trot – Holiday 5K Fun Run & Walk
Date(s)
Sun 12/10/2017
8:30 am - 11:00 am
Location
Harbor View Hotel
Contact: Guinevere Cramer
Address: 131 North Water Street
Phone: -774-563-0550
Email: [email protected]
Website: http://www.mvteddybearsuite.com
Admission fee: $25 Day of, $20 in advance
Relevant Link: https://www.active.com/edgartown-ma/running/distance-running-races/teddy-bear-trot-2017
Sponsors: Point B Realty Vineyard Hurricanes Harbor View Hotel
Benefit for: Martha's Vineyard Boys & Girls Club
Join in the holiday fun! Come run through beautiful downtown Edgartown in your most festive attire!
The Teddy Bear Trot Holiday 5K Run & Walk will begin at the Harbor View Hotel, continue through Edgartown out to the Katama General Store, then return through town and end at the Teddy Bear Suite at the Harbor View Hotel Captain Collins Cottage #20.
The holiday fun run is a timed race, and runners of all ages and skill levels are encouraged to participate, and dress as "festive" as possible. Entrance fee is $25 day of the race or $20 with early registration. Registration is available online:https://www.active.com/edgartown-ma/running/distance-running-races/teddy-bear-trot-2017 – first 100 to register get a Teddy Bear Trot T-shirt.
Race day registration begins at 8:30 a.m. on Sunday, December 10th. The Teddy Bear Trot start time is 10 a.m., with a fun run beginning at 9:45 a.m.