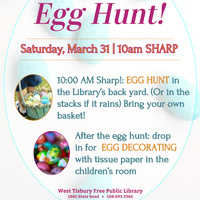 2018
Sat 03/31/2018
10:00 am - 10:30 am
Location
West Tisbury Library
Contact: Olivia Larsen
Address: 1042 State Road
Phone: 508-693-3366
Email: [email protected]
Website: http://www.westtisburylibrary.org
Admission fee: Free
Relevant Link:
Sponsors: West Tisbury Library
Benefit for:
The West Tisbury Library will be hosting its annual spring egg hunt on Saturday, March 31 at 10am sharp, rain or shine! Gather outside the front entrance to the Library. Bring your own basket for gathering. After the hunt, the library will offer a tissue paper egg family craft in the Children's Room. Fun for the whole family. Free and open to the public.