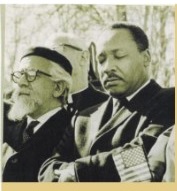 A Service to Remember and Honor
Date(s)
Fri 01/12/2018
5:30 pm
Location
MV Hebrew Center
Contact: MV Hebrew Center
Address: 130 Center St.
Phone:
Email:
Website: http://www.mvhc.us
Admission fee: Free; Food pantry donations accepted
Relevant Link:
Sponsors: MVNAACP and MVHC
Benefit for:
A Service to Remember and Honor Dr. Martin Luther Kink and Rabbi Abraham Joshua Heschel. Rev. Mariama White Hammond speaks on Liberation of the Land.  Songs of Freedom  led by Roberta Kirn.  Donations to island Food pantry are welcome.