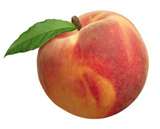 2017
Sat 08/12/2017
12:00 pm - 4:00 pm
Location
First Congregational Church of West Tisbury
Contact: Karen Gerlach
Address: 1051 State Road
Phone: 508-693-2842
Email: [email protected]
Website:
Admission fee: Free
Relevant Link:
Sponsors:
Benefit for: First Congregational Church
August is peach season, so mark your calendar! The First Congregational Church of West Tisbury's Seventh Annual Peach Festival is on Saturday, August  12th, 2017 from Noon to 4:00 PM. The church is located on the corner of State Road and Music Street, in West Tisbury.
Come and enjoy many peach treats at tables and chairs on the front lawn: fresh peaches, peach smoothies, peaches with ice cream and peach shortcake. Goodies to go include: Blueberry/Peach Cobbler, Parfaits, homemade Peach Pies and Jams.
Minted ice tea will be served. There will be music on the lawn and fun activities and a gift basket raffle for the kids. Also, don't miss a chance to win a peach tree  in the raffle for grown-ups! And, there will also be a table of gently used costume jewelry to purchase.
Look for the peach banner and bright balloons on the church fence in the center of town in the next two weeks. All proceeds of this fundraiser help support this historic church and our island community.
For more information call 508.693.2842. The peach festival will be hosted indoors in the event of inclement weather.