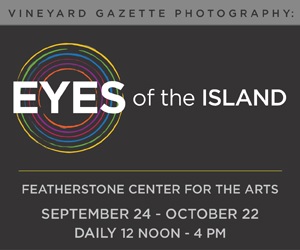 2017
Sun 09/24/2017
4:00 pm - 6:00 pm
Location
Featherstone Center for the Arts
Contact: Featherstone Center for the Arts
Address: 30 Featherstone Lane
Phone:
Email:
Website: http://www.featherstoneart.org
Admission fee: Free
Relevant Link:
Sponsors: Featherstone Center for the Arts
Benefit for:
 Opening reception for Vineyard Gazette Photography: Eyes of the Island, a month-long exhibit featuring the work of some of the Island's best photographers.
The award-winning Vineyard Gazette and 11 of its photographers team up for a first-ever show that includes coverage of major news events, portraits of Islanders, and fine art images taken on and around Martha's Vineyard.
The exhibit runs through Oct. 22 at the new Francine Kelly Gallery at Featherstone Center for the Arts.
The exhibit includes prize-winning photography, in both black and white and color, that has appeared over the years in the pages of the Vineyard Gazette or on its website, vineyardgazette.com. The collection includes highlights from the Gazette's coverage of hurricanes, fires and presidential visits as well as sports, arts and cultural events.
Alongside the Gazette collection, 11 photographers whose images regularly appear in the pages of the Gazette will exhibit their individual work. These are: Ray Ewing, Albert O. Fischer, Tim Johnson, Mark Lovewell, Lanny McDowell, Alison Mead, Steve Myrick, Alison Shaw, Jeanna Shepard, Peter Simon and Maria Thibodeau.
Sunday, September 24 at 4:00pm to 6:00pm