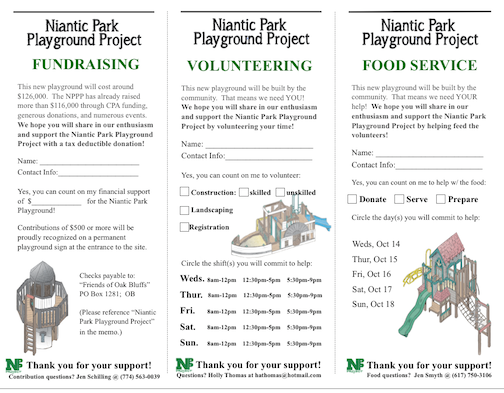 Niantic Park Playground Community Build
Date(s)
Wed 10/14/2015 - Sun 10/18/2015
8:00 am - 8:00 pm
Location
Niantic Park
Contact: Holly Thomas
Address: Wamsutta Avenue
Phone:
Email: [email protected],
Website: https://www.facebook.com/NPPProject?fref=ts
Admission fee: Free
Relevant Link: https://www.facebook.com/NPPProject?fref=ts
Sponsors: Niantic Park Playground Project
Benefit for: Niantic Park Playground Project
Be a part of history, a project that captures the spirit of Martha's Vineyard, from Wednesday, October 14th thru Sunday, October 18th, where the community of Martha's Vineyard will work together to create an Island inspired playground, for generations of play.
The Niantic Park Playground Project has partnered with Playgrounds by Leathers Associates, a leader in custom playgrounds, to develop a unique Island inspired playground. Leathers is also partnering with the NPPP to organize the community build. During the five build days, up to 100 volunteers per day will be at Niantic Park working together to build the playground.
All skill levels are needed for the community build, from builders, to those who can help with food for volunteers, to those who can help with an number of various tasks. Several hundred helping hands are needed.
The Niantic Park Playground Project begin in 2014 with the help of a small group of parents committed to providing a thoughtful, interactive play-space for Island children. that was unique to the Island, including a playground with the East Chop lighthouse, a steamship boat, and a gingerbread-inspired play structure.