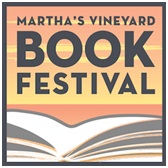 2017
Sat 08/05/2017
9:00 am - 4:00 pm
Location
Harbor View Hotel
Contact: MV Book Festival
Address: 131 N Water St
Phone:
Email:
Website: http://mvbookfestival.com/
Admission fee: Yes
Relevant Link:
Sponsors: Vineyard Gazette
Benefit for:
Welcome to the 2017  Martha's Vineyard Book Festival!
The Festival takes place in two locations on the Island with Saturday held "down island" in Edgartown and on Sunday, "up island" in Chilmark.
Click here for more information on the Saturday, August 5 event taking place  at the Harbor View Hotel in Edgartown at which time the Festival features authors talking together in topical panel discussions.
On Sunday, August 6,  the Festival will be held in tents on the grounds of the Chilmark Community Center "up island" in Chilmark, each author will have an individual discussion, often in an interview format, about his/her work.
Hours each day will be approximately 9:00 am to 4:00 pm.
The festival is free and open to all.
The festival promotes dialogue on the leading issues of the day and highlights great writing.