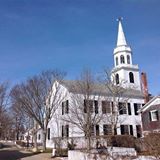 M. V. Center for Living Coffee Hour
Date(s)
Sun 02/11/2018
11:30 am - 12:00 pm
Location
Federated Church Parish House
Contact: Alex Mayhew
Address: 45 South Summer St.
Phone: 508-627-4421
Email: [email protected]
Website: http://federatedchurchmv.org
Admission fee: Free
Relevant Link:
Sponsors: Federated Church
Benefit for:
What options are available to you to get to Boston for Medical appointments?  What is happening at the old VNA building?  For answers to questions like these, please join us at the Federated Church, 45 South Summer St., Edgartown on Sunday, February 11th, when Leslie Clapp of the M. V. Center for Living, will be our guest speaker at our coffee hour, at 11:30 am.  Free.