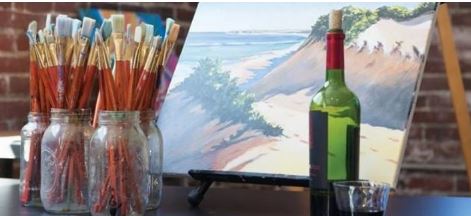 2017
Tue 07/25/2017 - Sun 07/30/2017
7:00 pm
Location
Portuguese American Club
Contact: Sheryl Wesley
Address: 137 Vineyard Ave
Phone: (508) 289-1803
Email: [email protected]
Website: https://legacyweekonthevineyard.com/
Admission fee: $35
Relevant Link: https://www.eventbrite.com/e/legacy-week-on-the-vineyard-2017-list-of-events-tickets-31743448509?aff=es2
Sponsors: https://www.edelheiss-wine.com/home
Benefit for: HBCUs
Find your muse while listening to music at Art & Soul, the opening reception for the first annual Legacy Week on the Vineyard. No experience necessary, just an experience to be promised.
Whether you make it a girl's night, a couple's night, or a friends and family night, make it a night to remember. What better way to reminisce Martha's Vineyard than taking away a piece of art made with your soul?
Paint, canvas, aprons, brushes and easels will be provided by the services of Erika Boudilles' https://www.facebook.com/GrapesArtBarMV/, while wine tickets and light refreshments will be served.
An instructor will walk you and your guests step-by-step through the art work that was selected for the class, so do not fret it's FUN art, not FINE art.
Not a Picasso? No worries. Your presence will be the gift. Feel free to mingle and support the other artists and authors that will have their artistry and literature available for sale.
Not digging the hors d'oeuvres, we feel you, and we got you! The restaurants regular menu will be available to order from independently and cash bar will be available to your liking.
Bring yourself, your business cards, and check all egos at the door. This is Art & Soul.
* SEATING IS LIMITED – (30) seats available for the Paint & Sip portion.
Music Provided By Dj AP https://www.facebook.com/TherealDJAP/
Erika Bardouille calls the Vineyard her "favorite place in the world". Painting has always been a passion for Erika, as she was born into a creative family. Her mother Deynse Bardouille is also a Vineyard native and a nationally known Black author, spoken word poet and painter. Erika opened "Grapes..An Art Bar on the Vineyard", in her backyard in 2014. The purpose was to combine the tranquility of the picturesque Vineyard landscapes and painting fun with friends over a glass of wine. Erika is currently a high school history teacher and resident in Brooklyn, NY.