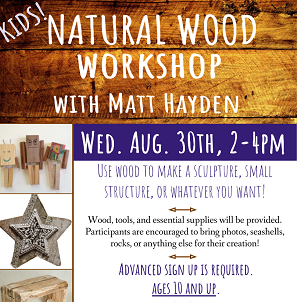 2017
Wed 08/30/2017
2:00 pm - 4:00 pm
Location
West Tisbury Library
Contact: West Tisbury Library
Address: 1042 State Road
Phone: 508-693-3366
Email: [email protected]
Website: http://www.westtisburylibrary.org
Admission fee: Free
Relevant Link:
Sponsors: West Tisbury Library
Benefit for:
Matt Hayden, Lego Club coordinator and Boy Scout leader, will lead a natural wood project for families and kids, where participants can create a sculpture, structure, small stand, or whatever they feel inspired to make. Wood, tools, and essential supplies will be provided.
Participants are encouraged to bring photos, seashells, rocks, additional wood, or anything else they would like to incorporate into their creation.
This event will be located outdoors near the library's children's room.
Advanced sign up is required. This event is designed for kids ages 10 and up. Contact the library to sign up!