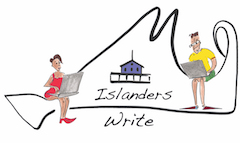 2017
Mon 08/14/2017
All Day
Location
Grange Hall
Contact: Kate Feiffer
Address: 1067 State Rd
Phone: 508-693-6100
Email: [email protected]
Website: htp://www.islanderswrite.com
Admission fee: free
Relevant Link:
Sponsors: The MV Times
Benefit for:
A day of workshops and panel discussions about the art, craft, and business of writing. With author signings, an open mic, food from the Scottish Bakehouse, and more. Come for an hour or stay for a day.