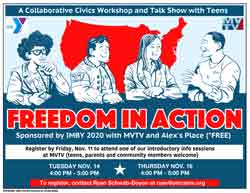 2017
Tue 11/14/2017
4:00 pm - 5:00 pm
Location
MVTV
Contact: Ryan Schwab-Doyon
Address: 58 Edgartown-Vineyard Haven Rd
Phone: 508-696-7171 ext 127
Email: [email protected]
Website:
Admission fee: Free
Relevant Link:
Sponsors: YMCA of MV
Benefit for:
Freedom in Action: A Collaborative Civics Workshop and TV Talk Show with Teens

This is an introductory information-sharing meeting to describe an independent, pilot program fusing a new model of civics education with media production for teenagers. Scholarships may be available, and there is a potential for academic credit as the program evolves. The program is slated to begin in January 2018, with dates and locations to be determined with participants who sign on.
The program is meant to engage and empower youth in the rights and responsibilities of citizenship and to foster various aspects of professional development, from research and writing, to public speaking, to television production. This project will comprise two components: a workshop in which we consider how language is used (and misused) to communicate developments in U.S. government policy and to influence public opinion; and a TV talk show in which teen panelists approach topics in a fun, common-sense, fair-minded, and fact-based way. The TV show will be developed collaboratively out of our civics workshops, and a set of three criteria for independent thinking (to be shared at the info meeting) will inform the entire project. The goal of the talk show will be to engage not just the teen participants, but their age-diverse audience in the community.
The workshop will involve a general discussion of themes such as freedom, equality, and unity; an analysis of political rhetoric (speeches, talking points, etc.); and a look at how the American press either provides or fails to provide sufficient context on issues pertaining to citizens' rights and responsibilities as Americans as we develop our own model of integrity in "freedom of the press."
While the program is focused on youth grades 9 – 12, parents, community members and children grades 4 and up are welcome to attend as potential members of the "extended brain trust" and future members of this project. The project is the brainchild of writer, educator, and producer A.F. Cook (author, "Democrats in the Red Zone: an Independent voter's take on the game of political perception – 2007) under her civics brand IMBY 2020 (In My Back Yard) in collaboration with MVTV and Alex's Place.
The meeting is open to the public, with voluntary registration with Ryan Schwab-Doyon at Alex's Place in order to account for room capacity at MVTV: [email protected]