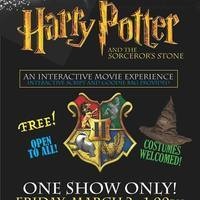 2018
Fri 03/02/2018
1:00 pm - 3:45 pm
Location
Martha's Vineyard Film Center
Contact: West Tisbury Library
Address: 79 Beach Road
Phone: 508-693-3366
Email: [email protected]
Website: http://www.westtisburylibrary.org
Admission fee: Free
Relevant Link:
Sponsors: West Tisbury Library
Benefit for:
Goodie bags, interactive script, and a Sorting Hat to help young witches and wizards decide their Hogwarts House will all be provided. Doors open at 12:30pm. Get your free ticket at http://mvfilmsociety.com/2018/02/harry–potter-and-the-sorcerers-stone-an-interactive-movie-experience-hosted-by-the-west-tisbury-free-public-library-free-youth-event/
Co-sponsored by the West Tisbury Free Public Library and the MV Film Society.