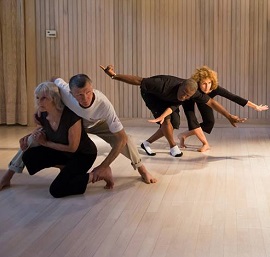 2017
Tue 04/25/2017
11:30 am - 12:30 pm
Location
West Tisbury Library
Contact: West Tisbury Library
Address: 1042 State Road
Phone: 508-693-3366
Email: [email protected]
Website: http://www.westtisburylibrary.org
Admission fee: Free
Relevant Link:
Sponsors: West Tisbury Library
Benefit for:
On Tuesday, April 25th at 11:30am, join us at the West Tisbury Library for a workshop with the improvisational modern dance company, "What's Written Within." This workshop is part of the library's "Explorations in Healthy Living" series and will be led by Sandy Broyard, Sally Cohn and Margaret Knight. Through improvisational dance, learn to open pathways in your body that will allow you to move in the unique way that you are meant to dance. Please wear comfortable clothing that allows for movement. Following the workshop, enjoy soup, bread and conversation. This event is free and open to the public. Space is limited, so contact the library to reserve your space!
Sandy Broyard, Sally Cohn, and Margaret Knight share a long and rich history in dance and dance improvisation. What's Written Within is an improvisational dance company founded on Martha's Vineyard. Their philosophy is "that everyone whatever their age, whatever their physical ability can move in beautiful, expressive, meaningful ways."
The "Explorations in Healthy Living" series aims to foster community, health, and creativity. Events in this series include "Giving & Receiving" massage workshops, book making crafts, natural death care discussions, balance, and more. Call the West Tisbury Library for information on program dates and locations. This series is free and made possible by the Massachusetts Board of Library Commissioners LSTA Grant, the West Tisbury Library Foundation, and the Friends of the West Tisbury Library.