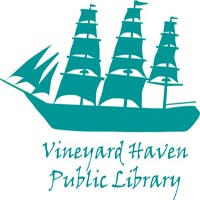 2018
Tue 02/27/2018
7:00 pm
Location
Vineyard Haven Public Library
Contact: Vineyard Haven Library
Address: 200 Main Street
Phone:
Email:
Website: http://www.vhlibrary.org
Admission fee: Free
Relevant Link:
Sponsors: Vineyard Haven Public Library
Benefit for:
The Western Osprey — also called sea hawk, river hawk, and fish hawk — is a diurnal, fish-eating bird of prey with a cosmopolitan range. But you can just call them "ospreys" for short, and they're beloved members of our summer community here on Martha's Vineyard.
We're used to seeing them soaring over the waters, or resting in their giant nests high atop shoreline poles and trees. We take them for granted, but in fact we nearly lost them for good not too long ago.
They have made an amazing comeback due to the hard work of many people, including local naturalist Gus BenDavid, and visiting scientist Rob  Bierregaard, who have done years of heroic work to restore the osprey habitat and entice these wonderful birds to consider the Vineyard their home.
Island birder Dick Jennings has been another key member of Team Osprey. Over more than a decade he has worked to get nesting poles erected, preserve habitat, protect the birds from human encroachment, and facilitate the scientific study of their diet, activities and migrations.
Please join us on Tuesday, February 27th at 7 pm when Dick will present Island Ospreys, a slide show covering all aspects of this majestic creature. Come join us for what is sure to be an informative and entertaining evening. Now's the time to get back in the osprey mood and start to get ready to welcome them back home this spring.