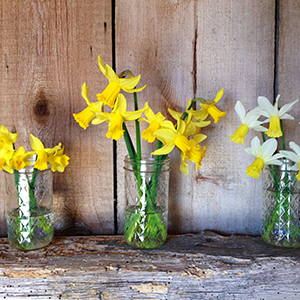 2017
Sat 04/22/2017
10:00 am - 2:00 pm
Location
Polly Hill Arboretum
Contact: Polly Hill Arboretum
Address: 809 State Road
Phone: 508-693-9426
Email: [email protected]
Website: http://www.pollyhillarboretum.org
Admission fee: Event is free. Workshops have a fee. Visit pollyhillarboretum.org for more info.
Relevant Link: https://www.facebook.com/events/390485178004257/
Sponsors: Polly Hill Arboretum
Benefit for:
Celebrate spring with a day of flowers and fun! A daffodil display in the Arboretum's Far Barn will showcase dozens of varieties in vases, illustrating the large variations in this species. Enjoy family-friendly arts and crafts, and bring a picnic! Join staff for a 10am guided tour to see what spring flowers are in bloom on the Arboretum grounds. This event is free and open to the public.
Additional programs include a spring flower arranging workshop from 11:15am-12pm with Morrice Florist ($50 / $40 for PHA members. Call Morrice Florist to preregister: 508-693-0392), and a botanical illustration class with Lynn Hoeft from 12:30-2pm ($15 / $5 for PHA members. Call the Arboretum to preregister: 508-693-9426).