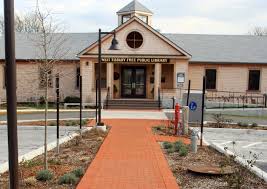 2016
Sun 01/10/2016
4:00 pm - 5:00 pm
Location
West Tisbury Free Public Library
Contact: Amy Hoff
Address: 1042 State Road
Phone: 508-693-3366
Email: [email protected]
Website: http://www.westtisburylibrary.org
Admission fee: Free
Relevant Link:
Sponsors: West Tisbury Library
Benefit for:
On Sunday, January 10 at 4pm, the library will host a classical music recital with soprano Olivia de Geofroy and pianist David Rhoderick entitled "Love, Lost and Found." The program includes pieces by Bellini, Brahms, Fauré, Chausson, and Handel. This concert is free and open to the public.
David Rhoderick is Music Director and Organist at the Congregational Church in West Tisbury. He was formerly Music Director and Organist at Union Chapel in Oak Bluffs and has deputized at other local churches. David studied organ in the UK under Douglas Steele and Ronald Heys, and was awarded an organ scholarship at Glasgow University, Scotland. He then went on to Clare College, Cambridge University, where he studied organ under Dame Gillian Weir, was a chorister in the Clare College Chapel Choir, and received a MA in Natural Sciences and Computer Science. David studied conducting under Sir Adrian Boult and Vernon Handley, piano under David Lloyd and is preparing for a Master of Arts in Musicology at the UK's Open University and also for the Fellowship of the Royal Schools of Music (FRSM). Until recently, David was President of the Martha's Vineyard Chamber Music Society. When he is not doing musical activities, he works for IBM as the manager of a technical marketing team for mainframe software.
Soprano Olivia de Geofroy is currently in her third year of study at Westminster Choir College in Princeton, NJ, where she is a candidate for the degree Bachelor of Music in Music Education: Master of Arts in Teaching. She studies voice under Lindsey Christiansen. As part of the Westminster Symphonic Choir, Olivia recently performed Beethoven's 9th Symphony with the Berlin Philharmonic directed by Sir Simon Rattle and Handel's Messiah with the New York Philharmonic directed by Jane Glover. She also performs with the Princeton University Sinfonia as a violinist. Olivia is from West Tisbury, MA. She is pleased to present her debut voice recital in her hometown and delighted to collaborate with David Rhoderick.