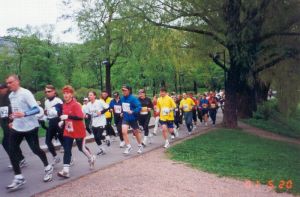 2017
Sat 08/12/2017
10:30 am
Location
Chilmark Community Center
Contact: Chilmark Road Race
Address: 520 South Road
Phone: 508-645-9484
Email:
Website: http://www.chilmarkcommunitycenter.org/chilmark-road-race/
Admission fee: Yes
Relevant Link:
Sponsors: Chilmark Road Race
Benefit for:
Join in the iconic Chilmark Road Race! Course is 5 Kilometers (3.1 miles). The Start is 3.1 miles east of the Chilmark Town Hall on Middle Road. It's very hilly from 1.5 to 2.6 miles. The Finish Line is at Beetlebung Corner next to the Town Hall. All runners must check in at the Chilmark Community Center either Friday evening, August 11th, 5:00-7:00pm, or Saturday morning, 8:30-9:30am. Numbers, timing chips, t-shirts, and race instructions will be issued. If you check in later, you may miss the race, as we must bus you to the Start.
Entries are limited to 1600 runners. Please enter early. Pre-registration is required. RACE WILL VERY LIKELY BE FULL AND CLOSE ENTRIES IN MID-JULY, OR EARLIER. Last year registration opened on June 30th and closed on July 12th.
Net proceeds benefit the Chilmark Community Center. Fees do not include processing & service charges.