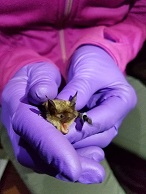 2017
Sat 10/28/2017
5:00 pm - 7:00 pm
Location
Long Point Wildlife Refuge
Contact: Rebecca
Address: Deep Bottom Road Entrance
Phone: 339.-927-8778
Email: [email protected]
Website: www.thetrustees.org/mim
Admission fee: Free
Relevant Link: http://www.thetrustees.org/things-to-do/cape-cod-islands/event-35573.html?srregion=cape-cod-islands&srrelated_property=&srevent_type=&dateType=srevent_start_date&srstartDate=&srendDate=&x=35&y=18
Sponsors: The Trustees & BiodiversityWorks
Benefit for:
Join The Trustees and BiodiversityWorks to celebrate National Bat Week on Saturday, October 28th at Long Point Wildlife Refuge!
Meet bat biologists and ask them all your bat-tastic questions
Learn how biologists catch and track bats at our bat station.
Bat crafts, fang-tastic treats, nighttime scavenger hunt & more at this FREE event.
Don't forget your wings! Best bat costume will win a prize!