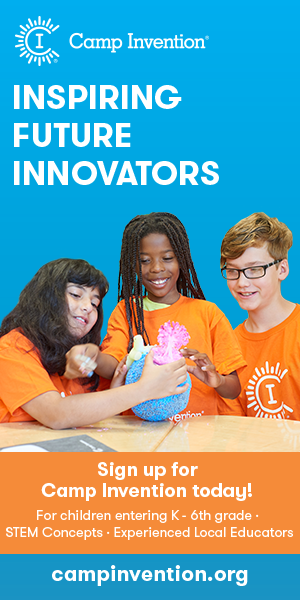 2017
Mon 06/26/2017 - Fri 06/30/2017
9:00 am - 3:30 pm
Location
West Tisbury Elementary
Contact: Amy Ladd
Address: 401 Old County Road
Phone: 508-868-1977
Email: [email protected]
Website: http://www.campinvention.org
Admission fee: $250
Relevant Link:
Sponsors: West Tisbury Elementary School
Benefit for:
Camp Invention at West Tisbury Elementary
Imaginations get their rocket fuel at Camp Invention right here on Martha's Vineyard this summer! Open to all schools for children entering K – 6th Grade. Camp Invention will take place at West Tisbury Elementary School June 26 – June 30
Camp Invention is an exciting, weeklong summer adventure awaits with activities that explore connections between science, technology, engineering, and innovation while sharpening their 21st century STEM skills. A program of the National Inventors Hall of Fame, Camp Invention allows children in kindergarten through 6th grade to experience real-world problem solving, creative thinking, invention, and teamwork. Children work together to transform the terrain and ecosystem of a distant exoplanet. They take risks as budding business owners, blast rockets, air cannons, and rubber chickens, and wire a circuit to create their own Spy Gadget Alarm Box!
Register at www.campinvention.org or by calling 800.968.4332.