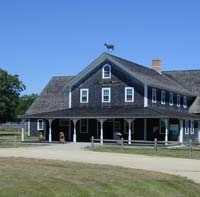 24th Annual Barnraisers Ball
Date(s)
Sat 11/04/2017
7:00 pm - 10:00 pm
Location
MV Agricultural Society
Contact: MV Agricultural Society
Address: 35 Panhandle Rd
Phone:
Email:
Website: http://marthasvineyardagriculturalsociety.org/
Admission fee: Free
Relevant Link:
Sponsors: MVAS
Benefit for:
Get ready for the annual Barnraisers Ball, celebrating the community that 'raised the roof' on what was then the 'new' West Tisbury's Agricultural Hall. Music, potluck, fun for the whole family. Bring a dessert to share.