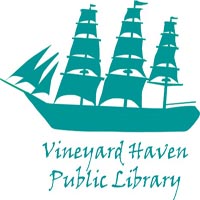 2015
Mon 06/01/2015 - Tue 06/30/2015
All Day
Location
Vineyard Haven Public Library
Contact: Vineyard Haven Library
Address: 200 Main Street
Phone: 508.696.4211
Email:
Website: http://www.vhlibrary.org
Admission fee: Free
Relevant Link:
Sponsors: Vineyard Haven Public Library
Benefit for:
The Vineyard Haven Public Library's "Art in the Stacks" space features rotating monthly exhibits managed by the Friends of the Library.   This month  features the art of Kathy Poehler who learned about seaweed walking the island beaches with her father as he collected and classified (Algae) for teaching purposes.  The artist  acquired an understanding of individual seaweeds and their properties, and continued to pursue these interests in aquatic environments at Allegheny College in Meadville Pennsylvania. Later, while teaching at Harvard University, she developed curriculum that bridged ocean science and art for young children, and had the opportunity to begin showing her work to the public. Since returning to the Vineyard, Kathy has received awards for my collage work, and currently shows her work at Featherstone, the Old Sculpin Gallery and the Vineyard Artisans Festivals during July and August. The library also has a collection of artworks that are displayed throughout the year, including 12 paintings by Vineyard artist Captain John Ivory. Artists interested in showing their work may contact the library at (508) 696-4210.