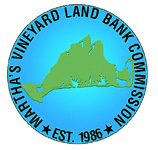 Annual Cross-Island Hike
Date(s)
Sat 06/03/2017
8:00 am
Location
South Beach
Contact: MV Land Bank
Address: Atlantic Drive
Phone: 508-627-7141 x115
Email:
Website: http://mvlandbank.com/annualhike.shtml
Admission fee: Free
Relevant Link:
Sponsors: MV Land Bank
Benefit for:
Each year since 1993, the land bank has observed National Trails Day – the first Saturday of June – by conducting a day-long hike across the Island to expose people to the network of trails that connect the Island's many conservation lands and public properties.
The 25th Annual Cross-Island Hike will start at the South Beach and end 25 miles later at Menemsha Beach. Click here to view the map.
Saturday, June 3 at 8:00am