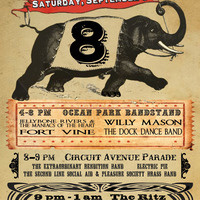 2017
Sat 09/09/2017
9:00 pm
Location
The Ritz
Contact:
Address: 4 Circuit Ave
Phone: 508-304-2285
Email:
Website:
Admission fee: Donation
Relevant Link:
Sponsors:
Benefit for:
 Music festival to benefit WVVY 96.7 LPFM, Martha's Vineyard Community Radio. There will be a total of 11 bands playing at 3 different venues.
At The Ritz enjoy DCLA (The Dukes County Love Affair); Nina Violet; CBRB (The Chris Brokaw Rock Band from Cambridge, MA); and the Kahoots.
Saturday, September 9 at 9:00pm to 1:00am
The Ritz
4 Circuit Avenue, Oak Bluffs, MA 02557
Other Times & Venues
At the Ocean Park Bandstand enjoy Jellybone Rivers and the Maniacs of the Heart (rock band from MV playing children's music); Fort Vine (an indie group from New York City); Willy Mason; and The Dock Dance Band.
Saturday, September 9 at 4:00pm to 8:00pm
During the Circuit Avenue Parade enjoy ERB (The Extraordinary Rendition Band from Providence, RI); The Second Line Social Aid and Pleasure Society Brass Band (from Somerville, MA); and Electric Pie.
Saturday, September 9 at 8:00pm to 9:00pm