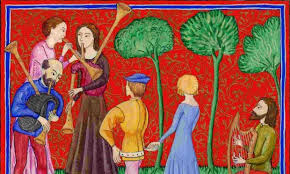 2016
Sun 07/17/2016
3:00 pm - 4:30 pm
Location
West Tisbury Public Library
Contact: Beth Kramer
Address: 1042 State Road
Phone: 508-693-3366
Email: [email protected]
Website: http://www.westtisburylibrary.org
Admission fee: Free
Relevant Link:
Sponsors: West Tisbury Library
Benefit for:
Sunday, July 17, from 3:00-4:30, the West Tisbury Library presents the seventh annual Troubadour and Trobairitz production of poems, songs and music from 12th and 13th Southern France. This event is free and open to the public
This production brings together Island poets, actors, professional singers and musicians in a performance of poems and songs selected from 2000 poems by 400 troubadours and a lesser number by the trobairitz, the women troubadours. Poems are read then sung to the accompaniment of music played on medieval instruments.