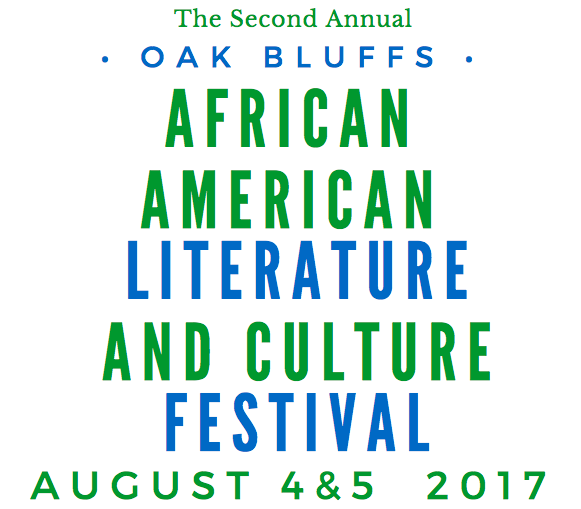 2017
Fri 08/04/2017 - Sat 08/05/2017
10:00 am - 5:00 pm
Location
Oak Bluffs Public Library
Contact: Angela Scionti
Address: 56R School St, Vineyard Haven, MA 02568
Phone: 603-845-8255
Email: [email protected]
Website: http://www.oakbluffslibrary.org
Admission fee: Free
Relevant Link: http://oakbluffslibrary.org/event/busy-162/?instance_id=52210748
Sponsors: Oak Bluffs Public Library
Benefit for:
The Oak Bluffs Public Library announces that the second annual Oak Bluffs African-American Literature & Culture Festival will be taking place August 4 – 5.

The festival returns this year for a two-day event featuring a painting reception, both local and nationally known speakers, readings, light faire, conversation, and music. The event is being held at Oak Bluffs Public Library, 56 R School St in Oak Bluffs, MA on the island of Martha's Vineyard.
The OBAALCF will open on August 4th from 6-8 pm with a reception for the late Vineyard artist, Olive "Cutie" Bowles. This will serve as an opening for the festival in general. The OBPL has worked with Cutie's daughter, Olive Tomlinson, as well as Anna Barber of the MV Museum, to curate the first ever retrospective of Cutie's work. In addition, copies of the catalogue for the show will be available, with an essay written by Cornell University art historian (and OB summer resident) Cheryl Finley. To celebrate Bowles's Caribbean heritage, the opening will be catered by Chef Deon.  All are welcome.
Saturday's schedule consists of the following speakers, readers, and performers: Jakki Hunt, civil rights activist and former president of the OB branch of the NAACP, will speak from 10-10:45. Next up, Skip Finley will present his research on Martha's Vineyard Captains of Color from his upcoming book on the topic from 10:45-11:30. Following this, from 11:30-12:15,  former president of the National Urban League and current senior fellow in Economic Studies at the Brookings Institute, Hugh B. Price, will read from his just-released book, This African-American Life: A Memoir.
After a serving of light fare, the festival will be handed to Tufts University's Dr. Nicole Aljoe, who'll speak from 1-1:45. Her fields of specialization include eighteenth- and nineteenth-century Black Atlantic Literature and the Slave Narrative. From 1:45 to 2:30, Safiya Sinclair, whose debut poetry collection Cannibal has won the Whiting Award, the Metcalf Award from the American Academy of Arts & Letters, and the OCM Bocas Prize for Caribbean Literature, will read. Afterwards, Sinclair and Dr. Aljoe will have a public conversation about Jamaican & Caribbean Literature.
The festival will wrap up, as it did last year, with a concert with the Martha's Vineyard Spirituals Choir from 3-4 pm. The choir will be led by U.S Slave Song Project director and founder, Jim Thomas.
There is an informal theme this year of Caribbean heritage, with several events having connections to the region.
This program is supported in part by a grant from the Martha's Vineyard Cultural Council, a local agency which is supported by the Massachusetts Cultural Council, a state agency.
The Oak Bluffs Public library focuses on supporting community, building cultural awareness, and providing access.
More information about the festival is available at www.oakbluffslibrary.org or by phone at (508-693-9433).