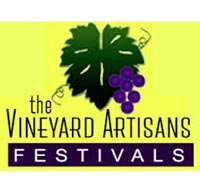 2018
Sun 08/26/2018
10:00 am - 2:00 pm
Location
West Tisbury Grange Hall
Contact: Vineyard Artisans
Address: 1067 State Rd
Phone:
Email:
Website: http://www.vineyardartisans.com/2017-vineyard-artisans-festivals/
Admission fee: Free
Relevant Link:
Sponsors: Vineyard Artisans
Benefit for:
A Vineyard Summer tradition and the only weekly juried art show where the public can meet over 70 artisans and buy directly from them. Many demonstrations, weaving, fine furniture, pottery, stained glass, oil paintings, pastels, mixed media, sculpture, wampum jewelry, quilts, clothing, sea glass windows, handmade books and much more.
Indoors and outdoors, rain or shine.
10:00 to 2:00 each day at the Historic Grange Hall in West Tisbury.
Great food, free parking, free admission, and a playground for kids.