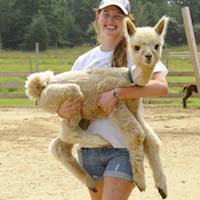 2018
Sat 04/28/2018
10:00 am - 4:00 pm
Location
Island Alpaca Farm
Contact: Island Alpaca
Address: 1 Head of the Pond Rd.
Phone: 508-693-5554
Email:
Website: http://islandalpaca.com
Admission fee: Yes
Relevant Link:
Sponsors: Island Alpaca
Benefit for:
Bring the family for an hour or two of fun and education. Meet the alpaca and enjoy a day with Island friends as more than 50 alpacas are scheduled to be shorn within public viewing.
View the fleece to fiber transition first-hand as expert shearers harvest the fleece, without any harm to the animal. Refreshments available. Those interested in the alpaca lifestyle, will be able to ask questions about how to set up farm facilities, alpaca nutrition and herd management, financing, and what to do with all that fabulous fleece. Admission is $5.