Catch the Vineyard Holiday Spirit: Shop Local!
November 20, 2021
Holiday fairs and markets are open, Donaroma's famous decorations (a must see!) are up, Ocean Park lights up on Thanksgiving Day, and the Vineyard is feeling festive. This year, we're excited to support our local retailers and artisans by shopping local, and we'd love for you to come along. Follow our suggestions, and don't forget to stop for hot chocolate!
If you're hopping over to Oak Bluffs to see those lights, plan ahead and place an order for some delicious Enchanted Chocolates. Almond Butter Crunch anyone? In addition to local orders, Enchanted Chocolates will ship to most states as well. Pick up the wine, cheese, and other snacks you need for cozy family gatherings around the fire with a stop at Tony's Market.
While you're in OB, you'll find gifts — from clothes to jewelry — for all the ladies on your list at Laughing Bear on Circuit Ave. For kids (big and small), you'll want to cross the street and stop into The Lazy Frog for games, puzzles, kites and more.
Head back to Vineyard Haven, where the Martha's Vineyard Museum will be aglow on its perch above Lagoon Pond. Stop in to see the latest exhibits and purchase a gift membership for all your Vineyard-loving friends.
Tisbury Toy Box in the Tisbury Market Place is an excellent place to find all kinds of games and toys for tots, and the staff is super helpful if you need advice.
In town, Rainy Day is a winter wonderland, with that spectacular tree decorated with ornaments from head to toe, cozy gifts like pillows and throws, and plenty of Vineyard memorabilia for stocking stuffers.
You'll have no problem finding a gift for the cook in your family at LeRoux at Home. Hint: Take advantage of the special offers on Le Creuset enameled cast iron pots and you can't go wrong.
Across the street (attention husbands, boyfriends, girlfriends, and significant others!), CB Stark's sterling silver and gold Vineyard charms, bracelets, necklaces and rings make holiday gift shopping for your sweetie easy. There is a CB Stark location in Edgartown, too.
Now for the outdoorsy types. Gifts for your snowboarder, skier, surfer, hiker, and really, any year-round Vineyarder are easy to find at The Green Room, a long-time favorite holiday shopping spot for Islanders in Vineyard Haven. Maybe your older sporty friends need something more along the lines of a soothing CBD lotion from Island Time Dispensary.
While you're in town, pick up a Steamship Authority gift certificate for everyone's stocking. Another great "paper" gift? A membership at the Martha's Vineyard YMCA, which literally has something for everyone.
Up at Woodland Center, you don't want to miss a unique Island store: Olive Branch Fair Trade imports ceramics, glasswear, artisan crafts, linens and Fair trade foods like pomegranate molasses, olive oil, and tahini from Palestine, Turkey, Haiti, Guatemala and all around the world.
At last, you'll want to devote a whole afternoon or day to Edgartown during the 40th annual Christmas in Edgartown, December 9 to 12. Don't miss the lighting of the Edgartown lighthouse on Friday night, the parade on Saturday, the teddy bears all over town, and lots of special discounts at downtown stores.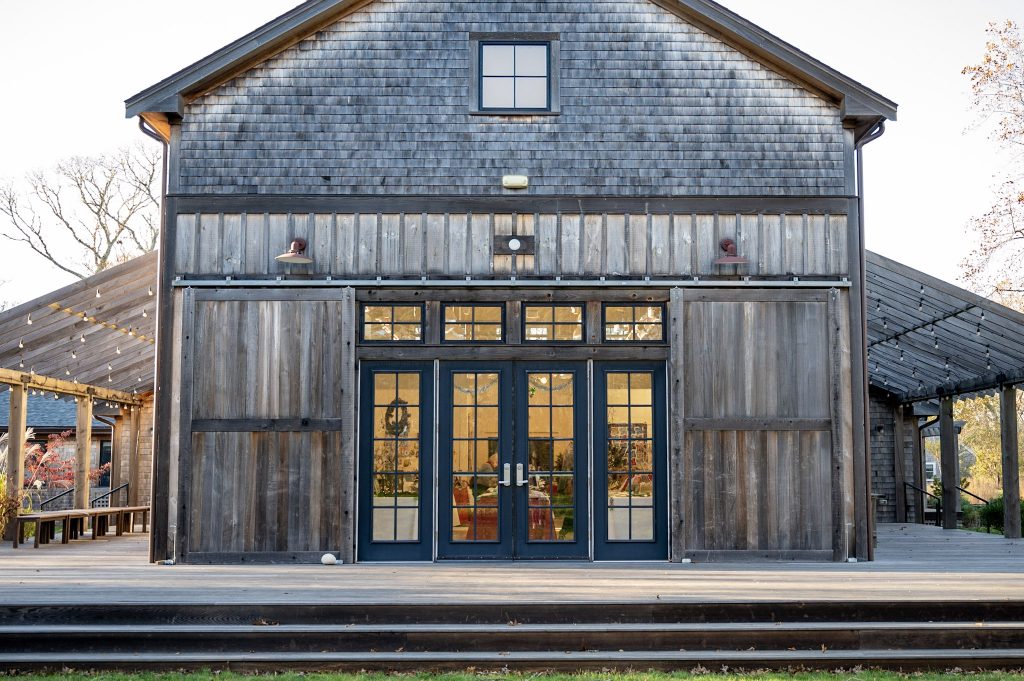 Then make a trip around the Island to visit various artisan craft fairs, including Featherstone Center for the Art's Holiday Gift Show (12 p.m. to 4 p.m., by appointment only), Island Made Holiday Shopping at Heather Gardens (10 a.m. to 5 p.m. daily except Thanksgiving Day), and the special Vineyard Artisans Thanksgiving Weekend Festival at the Ag Hall, Friday, Nov. 26 and Saturday Nov. 27, and the Vineyard Artisans Holiday Fair at the Grange Hall on Saturday, Dec. 18.
What if you want to support local businesses but don't know what to get your friends? A Lift Gift Certificate from Martha's Vineyard Savings Bank is the way to go. You can go online and purchase a gift certificate to a specific store or to any of the participating stores.
For additional holiday gift ideas, check out The Vine's Holiday Gift Guide issue and the Vineyard Gazette's Holiday Catalog, both available at all Vineyard Gazette vendor outlets.
Have a delicious and peaceful holiday!
Top photo: Ray Ewing; lower photo, Jeanna Shepard.