The Granary, Field, and North Water Galleries are Open!
August 6, 2020
Good news for Island art lovers: We're open! From up-island to down, the Granary family galleries — including the Granary and Field galleries in West Tisbury and North Water in Edgartown — are open daily. Add a tour of our galleries to your to-do list.
A viable cultural experience, seeing our artists' work in person is an unforgettable and true Vineyard event. We welcome you for a drop-in visit to see what's new each week.
Social distancing protocols are in place. We are happy to make accommodations to ensure you have a comfortable visit. As a reminder, face masks are required at all times inside the galleries to respect our fellow guests. Contact us about our concierge services that include private tours and art-to go.
Do you prefer browsing online? View what's on our walls from the comfort of your home. This year, in place of our traditional artist cocktail receptions, we will celebrate virtually with our '3D Virtual Gallery Tours'. Also, visit us on Facebook and Instagram for news and behind-the-scenes interviews with many of our Granary family artists.
Each art premiere will be featured for two weeks and then available throughout the season. All of the artists' work is available online.
Each art premiere will be featured for two weeks and then available through the season. All of the artists' work is available online.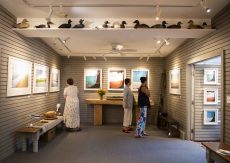 Granary Gallery: Regional Art with an Eclectic Mix
This month at Granary Gallery's iconic red barn in West Tisbury, you'll find new work by oil painters Andrew Moore and Heather Neill, legendary Island photographer Alison Shaw, and sculptor Don Wilks. Later in the month, the gallery premieres Mary Sipp Green's new landscapes, oil painter Jeanne Staples, a showcase of jewelry by Ross Coppelman, and stonework by master Lew French. A complete list of premieres are on our website – click the 'Shows' tab.
The Granary is more than just art for your walls! The welcoming red-barn gallery also offers an impressive array of gifts and collectibles, including one-of-a-kind wampum jewelry, handmade wooden bowls, antiques, and more. For more on Granary artists and history, visit our website.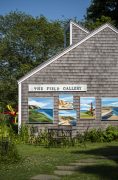 Field Gallery: Contemporary Art with a Vineyard Story
Just up the road in the heart of West Tisbury, the Field Gallery is celebrating fifty years of sharing contemporary works by emerging artists with an Island Story.
August brings shows by Island painter Max Decker whose oil paintings of quiet interiors document passing moments; watercolor paintings and ink drawings by Hannah Moore; abstracts by Tommy May, and the awe-inspiring oil paintings by Benjamin Moore. Work by contemporary artist Traeger di Pietro will continue to exhibit alongside photography by Jhenn Watts and fine art jeweler Kenneth Pillsworth.
For show dates and to learn more about the talented group of Field Gallery artists, please visit fieldgallery.com.
North Water Gallery
Located in downtown Edgartown, North Water Gallery offers a captivating display of contemporary and traditional artwork, fine art paintings, sculptures, and glass creations, often exploring maritime Island themes.
Visit this charming down-Island location for August premieres. The gallery features the much-loved paintings and wearable-art jewelry of sister artists Meg and Nell Mercier, as well as peaceful coastal landscapes by Sergio Roffo and romantic landscapes by Craig Mooney. Please visit northwatergallery.com to learn more.