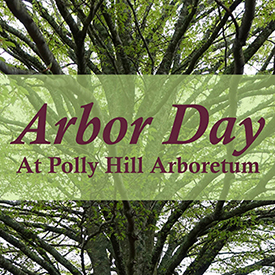 Arbor Day at Polly Hill Arboretum
Date(s)
Fri 04/28/2017
1:00 pm - 3:00 pm
Location
Polly Hill Arboretum
Contact: Polly Hill Arboretum
Address: 809 State Road
Phone: 508-693-9426
Email: [email protected]
Website: pollyhillarboretum.org
Admission fee: Free
Relevant Link: https://www.facebook.com/events/1157666227676352/
Sponsors: Polly Hill Arboretum
Benefit for:
What better way to celebrate Arbor Day than to join the staff of the Polly Hill Arboretum for an afternoon devoted to trees! Learn about the history of Arbor Day, take a guided tree tour, and observe a tree planting demonstration of the endangered Oglethorpe Oak. This demonstration will provide an opportunity to learn the best method of planting trees in your own landscape. We will wrap up the afternoon with a tree seedling giveaway. This year's free seedlings are Oriental Spruce (Picea orientalis). This large, elegant evergreen has attractive dark green foliage, a pyramidal shape, and the ability to grow in poor soils. The Arboretum has grown this species and recommends it as a screening plant and an evergreen that can grow in shade. First year plantings should be protected from rabbits and deer. Height: 50'+. Width: 20'
1-2pm: Take a tour of the grounds featuring endangered plants of the world
2-2:30pm: Observe a tree planting demonstration of the endangered Oglethorpe Oak.
2:30-3pm: Tree seedling giveaway (while supplies last)
Park at the Visitor Center. This event is free and open to the public.